CHANCE PROGRAM – COVID 19 – UPDATES
Visitors:
Thank you for visiting our website. Be advised, due to the current COVID-19 Pandemic, we must inform you of some recent changes in our programming. In effort to ensure the safety of each of you (and our staff), the CHANCE OFFICE will remain closed until further notification.
NOTE: Our Programming affords each student access to "remote" and distance learning methods of communication and instruction. Collectively, as we strive to survive this pandemic, know that our program is still committed to "Virtually – Opening Doors and Changing Lives."  
CHAT WITH CHANCE - Do you need to speak with a Live Person?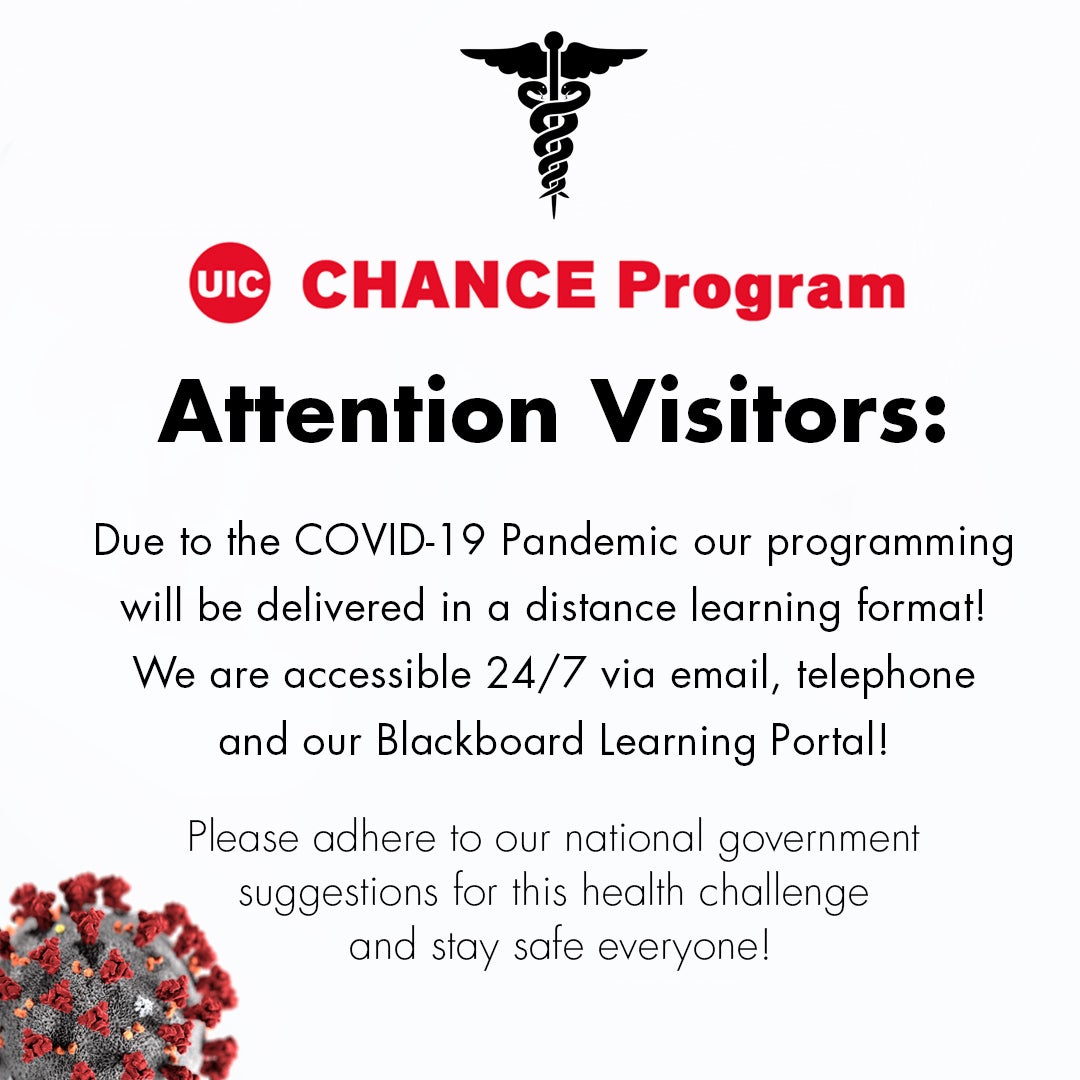 This semester our program will offer LIVE CHATS with a CHANCE Administrator. If you are in need of some information or just need to speak with one of our CHANCE Experts simply CLICK HERE.
Our CHAT WITH CHANCE Offerings are offered from:
                          Monday – Fridays (8:30am – 4:30pm)
                                Sundays (4:00pm – 6:00pm)
For additional information email us: chance@uic.edu or call: 312-355-5025.
Pre-College and Current UIC Students - Summer Initiatives - Applications Open - January 17, 2021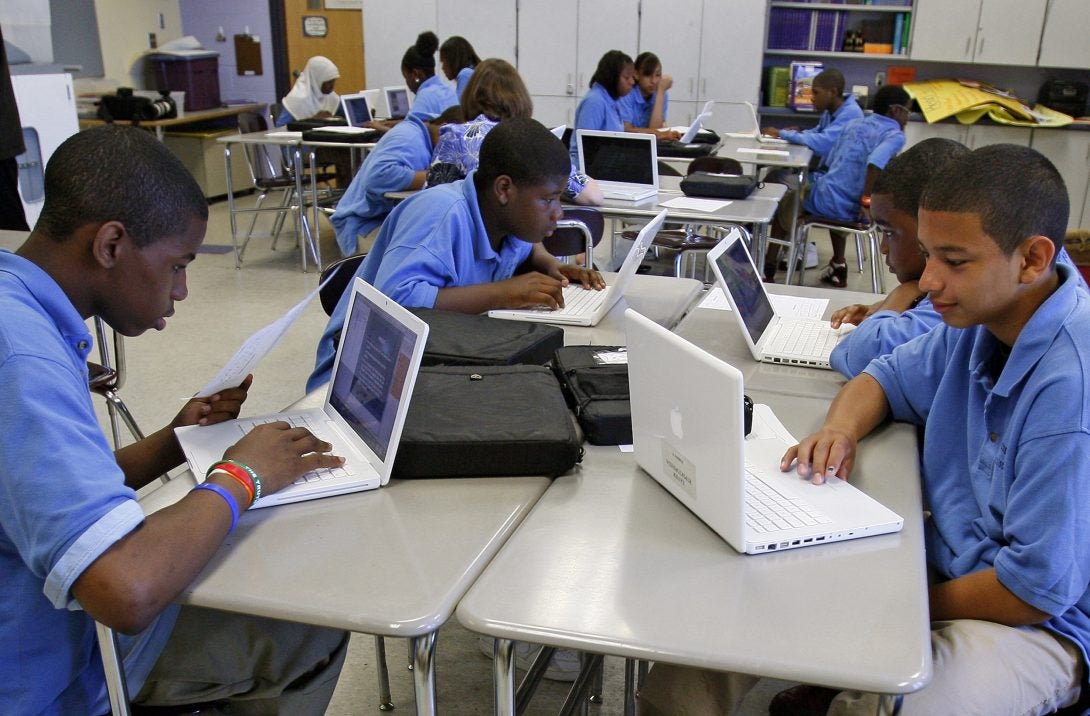 Attention High School Juniors, Rising Seniors………
Are you interested in attending one of our Summer Pre-College Initiatives as you prepare for the "World of College," Seeking Careers in STEM, or Future Leaders in Business? The CHANCE Program – 5-Week Summer Session will begin on Monday, June 28th and conclude on Friday, July 30th…..
Our Digital Scholars – Computer Science [Summer Initiative] is open to high school "rising seniors" and current University of Illinois Chicago Students.
Please NOTE:
The UIC CHANCE Summer Initiatives are Free of Charge" and was designed with the needs of our 21st century global and sustainable future aspects in mind.
For more information: email: chance@uic.edu or call: 312-355-5025.
                    SPACE IS LIMITED SO APPLY EARLY!!!!
ATTENTION: Newly Admitted or Transfer Students - Join us for our SELECT UIC DAY Virtual Summit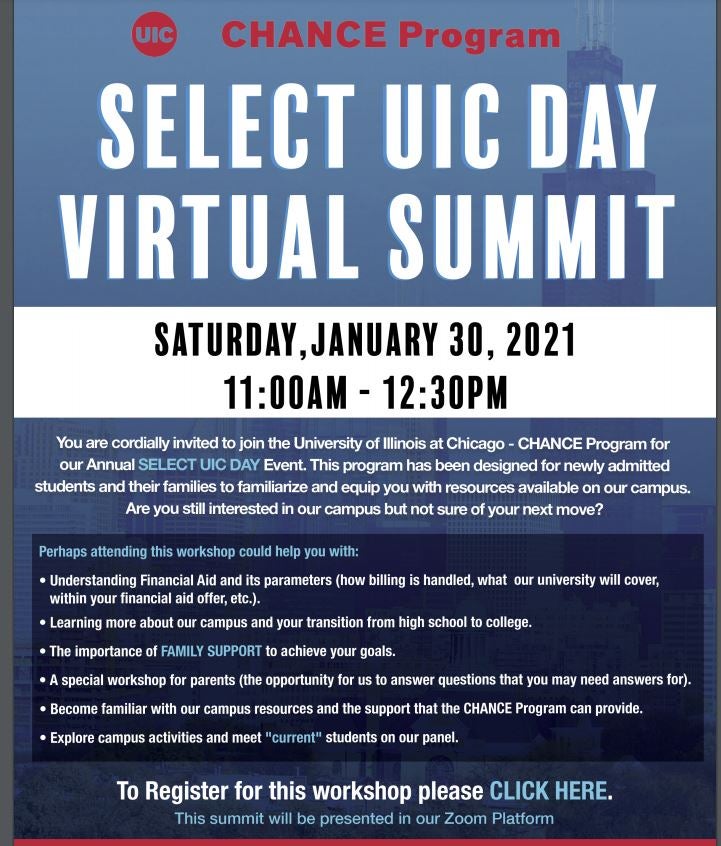 Incoming Freshmen, and Transfer Students you are cordially invited to join us for our SELECT UIC DAY – Virtual Summit where we will take time to familiarize you with our campus programming, review academic and personal support resources available, answer questions about financial aid, provide important information to your PARENTS/GUARDIANS and spend some time chatting about "College Life."
Please join us for this informational on Saturday, January 30th from (11:00am – 12:30pm). TO RSVP CLICK HERE.
For more information contact us at 312-355-5025 or email: chanceoutreach@uic.edu.